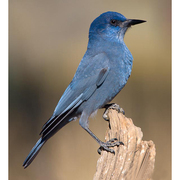 Hover over to view. Click to enlarge.
Pinyon Jay
Gymnorhinus cyanocephalus
Passeriformes
Members of this diverse group make up more than half of the bird species worldwide. Most are small. However their brains are relatively large and their learning abilities are greater than those of most other birds. Passerine birds are divided into two suborders, the suboscines and the oscines. Oscines are capable of more complex song, and are considered the true songbirds. In Washington, the tyrant flycatchers are the only suboscines; the remaining 27 families are oscines.
Corvidae
The crows, jays, and allies are intelligent and crafty birds. They are opportunistic, and most thrive living among humans. For this reason, many have been persecuted as pests. Many members of this family cache, or store, food for the winter, which allows them to be year-round residents at high altitudes and in northern climates. Many live in forests, and most nest in trees. Crows, ravens, magpies, and jays are generally long-lived and monogamous, and form long-term pair bonds. Some species have helpers at the nest. Their nests are typically bulky and made from sticks, and both sexes generally help build them. Females incubate the young, but there are exceptions where the male helps. Both sexes usually feed and care for the young. The corvids are omnivores, eating seeds, nuts, insects, carrion, and small vertebrates. They often rob the nests of other birds of eggs and nestlings. Most are social, forming flocks, especially outside the breeding season.
General Description
Two old records of errant flocks in Yakima and Klickitat Counties.
North American Range Map