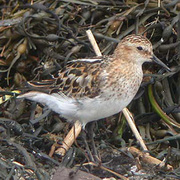 Hover over to view. Click to enlarge.
Little Stint
Calidris minuta
Charadriiformes
This is a large and highly varied group of birds that do not have many outward similarities. Most are water birds that feed on invertebrates or small aquatic creatures. The order is well represented in Washington, with seven families:
Scolopacidae
This large and diverse family of shorebirds is made up mostly of northern breeders that migrate long distances. Their highly migratory nature leads them astray fairly frequently, and rarities often show up outside their normal range. Many of these mostly coastal birds forage in relation to the tides, rather than the time of day. They use a variety of foraging techniques, but the most common techniques are picking food from the ground or water, or probing into wet sand or mud. Those that probe generally have sensitive bills that open at the tips. Most members of this group eat small invertebrates. Many make dramatic, aerial display-flights during courtship. Nesting practices vary, but both parents typically help raise the young. Clutch size is usually four, and both parents generally incubate. The young are precocial and leave the nest within a day of the hatching of the last chick. Most feed themselves, although the parents generally tend the young for a varying period of time. The female typically abandons the group first, leaving the male to care for the young until they are independent.
General Description
The first state record was found at the Yakima River delta (Benton County) in early August 2004.